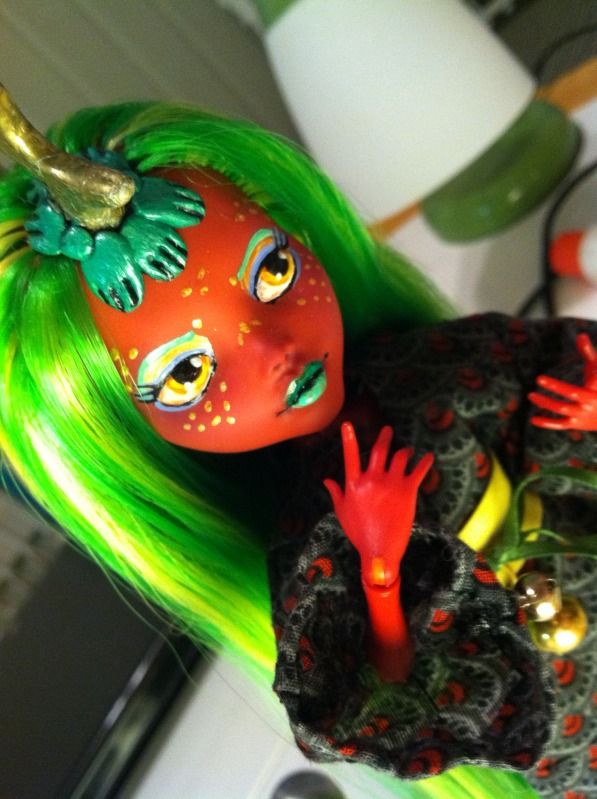 I started with a concept sketch--well, several, but this is the one that I eventually decided on.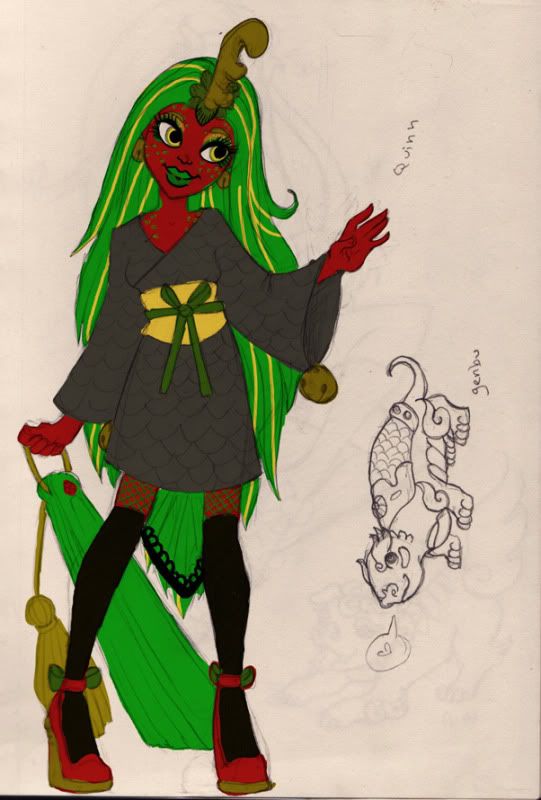 I started with a "Day at the Maul" Draculaura, because she was a) cheap and b) had some accessories I could work with. I pulled her head off, carefully wiped her face down with acetone, and then cut/ripped all her hair out with jewelry pliers. But
gently
.
We always hurt the ones we love.
I took breaks between rubbing her makeup off to rinse the head with warm water; it prevents the acetone from discoloring the vinyl and also softens the glue so it's easier to pull out. You want to be careful when you remove the hair, as to prevent making any huge holes in the scalp that you can't plug with hair later.
I took her to pieces as much as possible and soaked her in a boiling-hot RIT fabric dye bath.
This bit was tricky--obviously her vinyl head took on color immediately, as did her lower arms and hands, but her body/upper legs took quite a bit of heating and re-heating to get the proper saturated look. Her lower legs hardly took any color at all. I'm guessing this is due to her other bits being hollow, or possibly different grades of ABS plastic--if I could have removed her lower legs and colored them separately, I'm sure i would have eventually gotten them to take the color. A couple of Wave 1 dolls that I colored had lower legs that immediately took dye, so it's possible that different plastic was used in the different waves.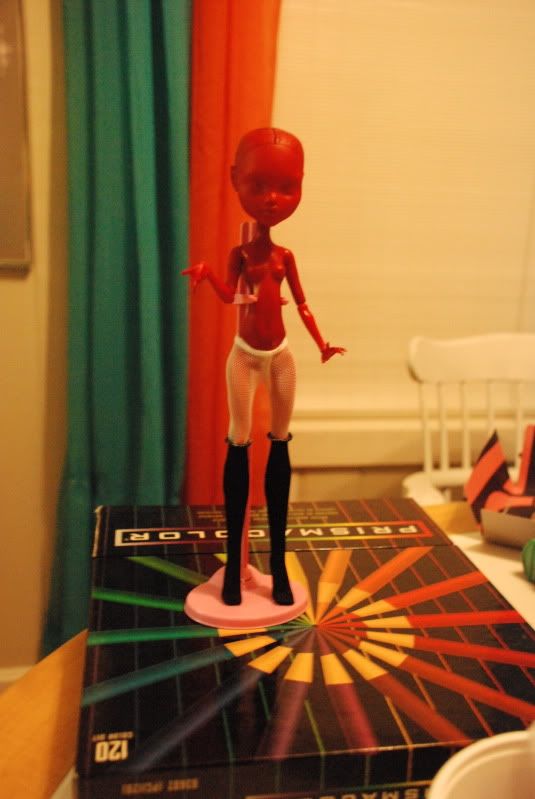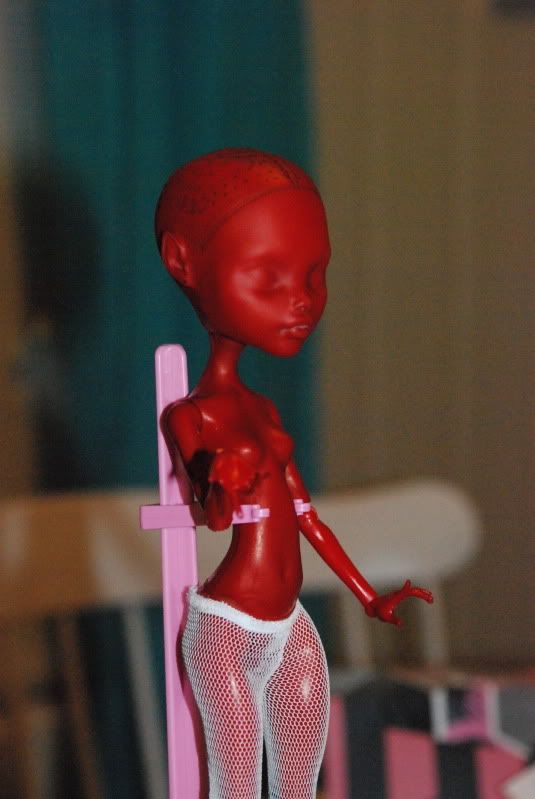 My roommates were terrified of her at this point.
Then, I started sewing, because my order of hair had not come in yet! Bear in mind that I've never sewn anything in my life aside from pillowcases and I hate hate hate sewing, but as I have a very specific outfit in mind for her, nothing will do until I create it with my own crabbed fingers.
SLIGHTLY less scary in a tiny dress.

But why do that when you can ROOT HAIR? It's so fun, you guys, seriously. No sarcasm. The minute the hair came in I started a-needlin'.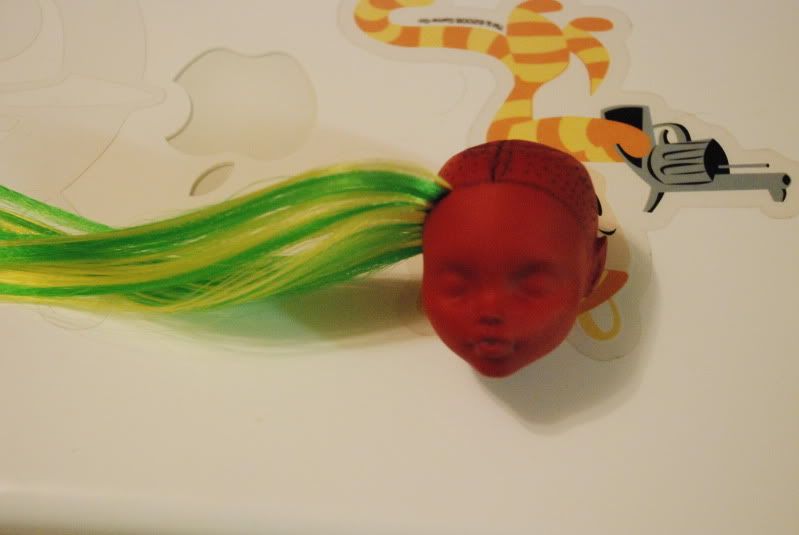 Colors aren't clashy at ALL.
I built a wire frame for her horn out of some thick jewelry wire, and rooted it into her head while I was waiting for another shipment of rerooting needles. (FYI those things break hardcore fast. Order like 10-20 of them in the smallest size if you're planning to reroot a doll, because
sheesh
. When my needles broke I tried to use the knot method, but I found that nearly impossible to pull off on a Monster High head, given the tiny neckholes, so yeah, a rerooting tool is necessary.)
Then I used model magic to sculpt the horn and the scales around the base of her horn--turns out it was a good idea to wait to root the rest of her hair, since it let me plan out more accurately where her scales would lie on her skull.
Ignore the giant empty tubs of sour cream, my BFF and I were mixing plaster for face-casts that day, too. :P
I removed the horn, painted it and the scales, finished rooting the hair, then glued the horn in place on top--and bent the wires against the interior of her scalp to make it extra-secure. Then I pretty much filled her head with glue.
Then I started painting her face, which was very tricky as I couldn't be assured of being able to fix mistakes with paint remover--I couldn't risk discoloring the Rit dye-job.
I took it very slow and sealed between each layer of paint.
And voila!
And for some thoughts about what did and didn't work:
+ The model magic! It's lightweight but they must have changed the formula since last time I used it, because it was impossible to sand down smoothly--hence the slight lumpiness in the horn that I really don't appreciate. Still, I think it looks okay and it is REALLY lightweight, so there's that. Next time, though, I think I might try
Sugru
--I've heard good things about it.
+ I think after doing the initial dye with Rit, you should wait a couple of days and re-dye the head, or IMMEDIATELY seal it. I've dyed a couple of dolls experimentally since then and the vibrancy of the color has faded from the vinyl heads, so I wind up with mismatches and it is lame. Next doll I will seal right after dyeing--lesson learned!
+ Also, lesson learned on the scalp-painting: I forgot to paint her head before I rooted the hair! The MH hair plug holes are further apart than I anticipated, so the scalp is much more visible than I'd like. DEFINITELY paint the scalp before you re-root a doll or you'll wind up with a headache like mine, where I was basically forced to add several new hair-holes to cover up the patches and I'm still not entirely satisfied with the results. Passable, but not professional.
Overall I think she turned out fairly well for a first attempt; I'm already working on several more customs so I'm sure I'll be applying what I learned here to the new dolls and learning more. If anyone's got questions or suggestions, feel free to ask and tell!
As requested, I've whipped up a two-cents tutorial for how I made my first custom MH doll, Quin Qilin.